First4Figures Darksiders (Death) RESIN Statue /Figures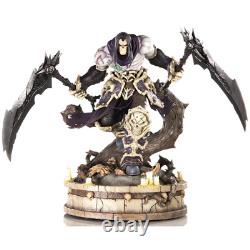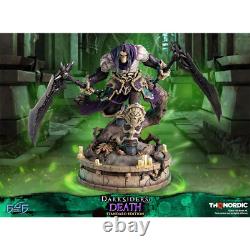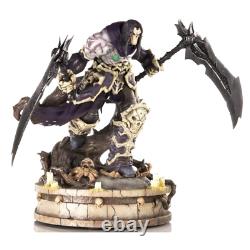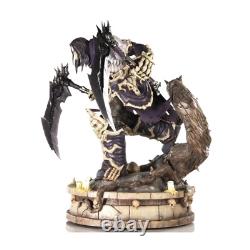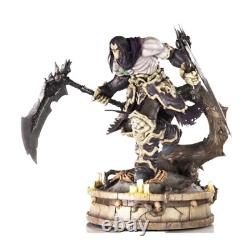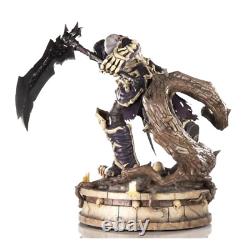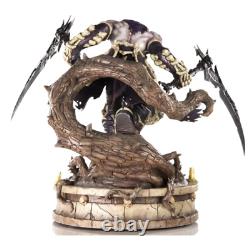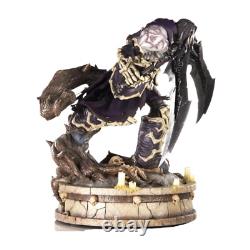 First4Figures - Darksiders (Death) RESIN Statue /Figures. First 4 Figures is proud to introduce their latest Darksiders collectible, one of the Four Horsemen of the Apocalypse and protagonist of the second game, Death! The concept for this statue is inspired by official Darksiders artworks, wherein the majority of them Death dons the Necromancer armor set. This is a lootable armor set in the game that increases Death's Arcane Abilities. The weapon he's wielding is his signature dual scythes, which is his starting weapon, and the base design is of the Kingdom of the Dead, which is one of the major overworlds in Darksiders II.
Another thing to note is the Amulet shards on his chest. The Amulet is a trinket that contains the souls of his Nephilim brethren he slew, and the Crow father is the keeper of this Amulet. After Death's encounter with the Crow father early into the game, the Amulet shatters and its fragments dig deep into Death's chest, forever serving as a reminder of the sin he committed against his kind. Sorry, our items are NOT available for pick-up. No additional information at this time.
Super 7 Mars Attacks GITD Burning Flesh 19. DC Multiverse Flashpoint Batman Unmasked. DC Multiverse The Demon Knight 7 Inch Figure.
Power Rangers ReAction W2 - Lord Zedd.

---