Sideshow Star Wars The Mandalorian Figure Life-Size Bust Din Djarin 86 cm Statue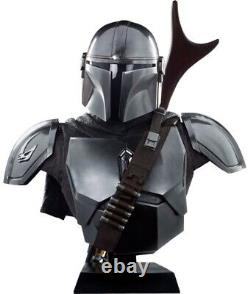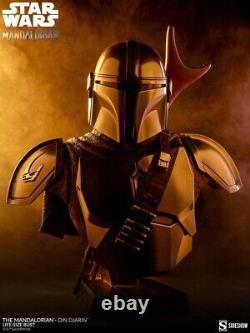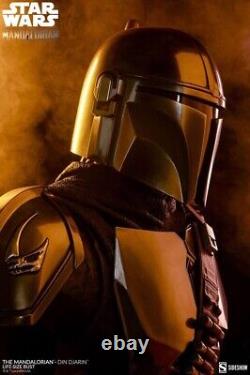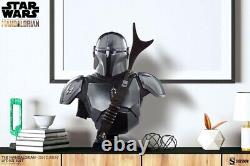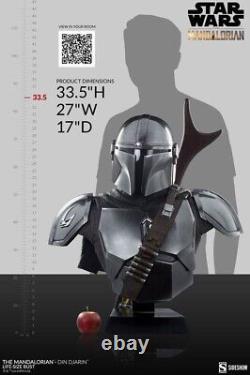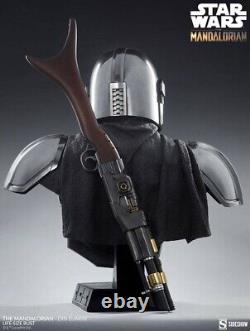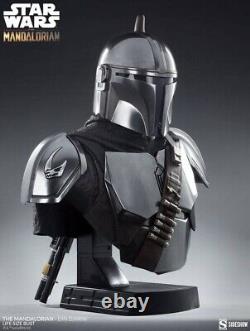 OUTSTANDING PIECE, NEVER IN 32 YEARS HAVE WE HAD A PIECE THAT IS ABSOLUTELY FANTASTIC IN LOOK AND PRESENCE, A MUST HAVE FOR ANYONE NOT JUST FANS OF STAR WARS. Star Wars The Mandalorian Life-Size Bust The Mandalorian - Din Djarin 86 cm. I can bring you in warm, or I can bring you in cold. Sideshow presents The Mandalorian - Din Djarin; Life-Size Bust, an epic 1:1 Star Wars; collectible for fans of The Mandalorian. Created in partnership with Legacy Effects, this intimidating bust captures the stoic presence of the fan-favorite bounty hunter like never before. The Mandalorian - Din Djarin Life-Size Bust measures 33.5" tall and 27" wide as he remains vigilant searching for his next target. With rotational articulation in the helmet, collectors can directionally change his focus for added storytelling in any display. His sleek silver armor and costume elements are fully sculpted, recreating his now-iconic silhouette in fiberglass design. Din Djarin's chest armor, helmet, bandolier, and even cape bear details of weathering and distress accumulated in his dangerous travels. Finally, his right shoulder pauldron features the unique mudhorn signet bestowed upon him by the Armorer.
For those who walk the Way of the Mandalore, this is a must-have centerpiece in any galactic display. Bring home the bounty and add The Mandalorian - Din Djarin Life-Size Bust to your Star Wars collection today. Product Size: 86 x 68 x 43 cm.

---